| Semester Enrolled | Which FAFSA to complete? |
| --- | --- |
| Fall 2022 Semester | 2022-2023 FAFSA |
| Spring 2023 Semester | 2022-2023 FAFSA |
| Summer 2023 Semester | 2022-2023 FAFSA |
| Fall 2023 Semester | 2023-2024 FAFSA |
FAFSA Tips

List UAM school code 001085 on your FAFSA
Use the IRS DRT to link tax returns directly to your FAFSA
Carefully review your Student Aid Report (SAR)
FAFSA is always FREE.
Check your WeevilNet and Student E-mail Regularly
Student Aid Report
Within a week after competing the FAFSA, you will receive a Student Aid Report (SAR). Carefully review your status and follow the instructions to make any corrections. The UAM Financial Aid Office will receive your information from FAFSA if you have listed our school code in the "School Information" section.
What is Verification?
When students complete the FAFSA, the U.S. Department of Education may select the FAFSA application for Verification. During verification, UAM is required to collect specific documents from you to verify information reported on your FAFSA. This process is mandated by the U.S. Department of Education to ensure information provided on your Free Application for Federal Student Aid (FAFSA) is accurate. If needed, the Financial Aid Office will notify you of verification checklist items using your official UAM email address and WeevilNet.
Why was I selected for verification?
Being selected does not mean you are in trouble. The Department of Education uses a system which randomly selects FAFSA applications for verification.
What should I do next?
Login to your WeevilNet Student Self-Service page, locate your To Do List, and review the respective checklist items for completion. Click the checklist item(s), read the instructions associated with the checklist item(s), and click the hyperlinked word HERE which will allow you to access the verification form. Please carefully read and follow the instructions of each form.

Please note: if you are a Dependent student, the verification forms will require a second signature of your parent(s) or legal guardian.

***We recommend you submit all verification forms and documents using the secure Dynamic Forms links provided within the checklist items on your WeevilNet Student Self-Service To Do List. Submitting forms by email/fax/in-person may result in delays to the processing of your application.


Financial Aid Timeline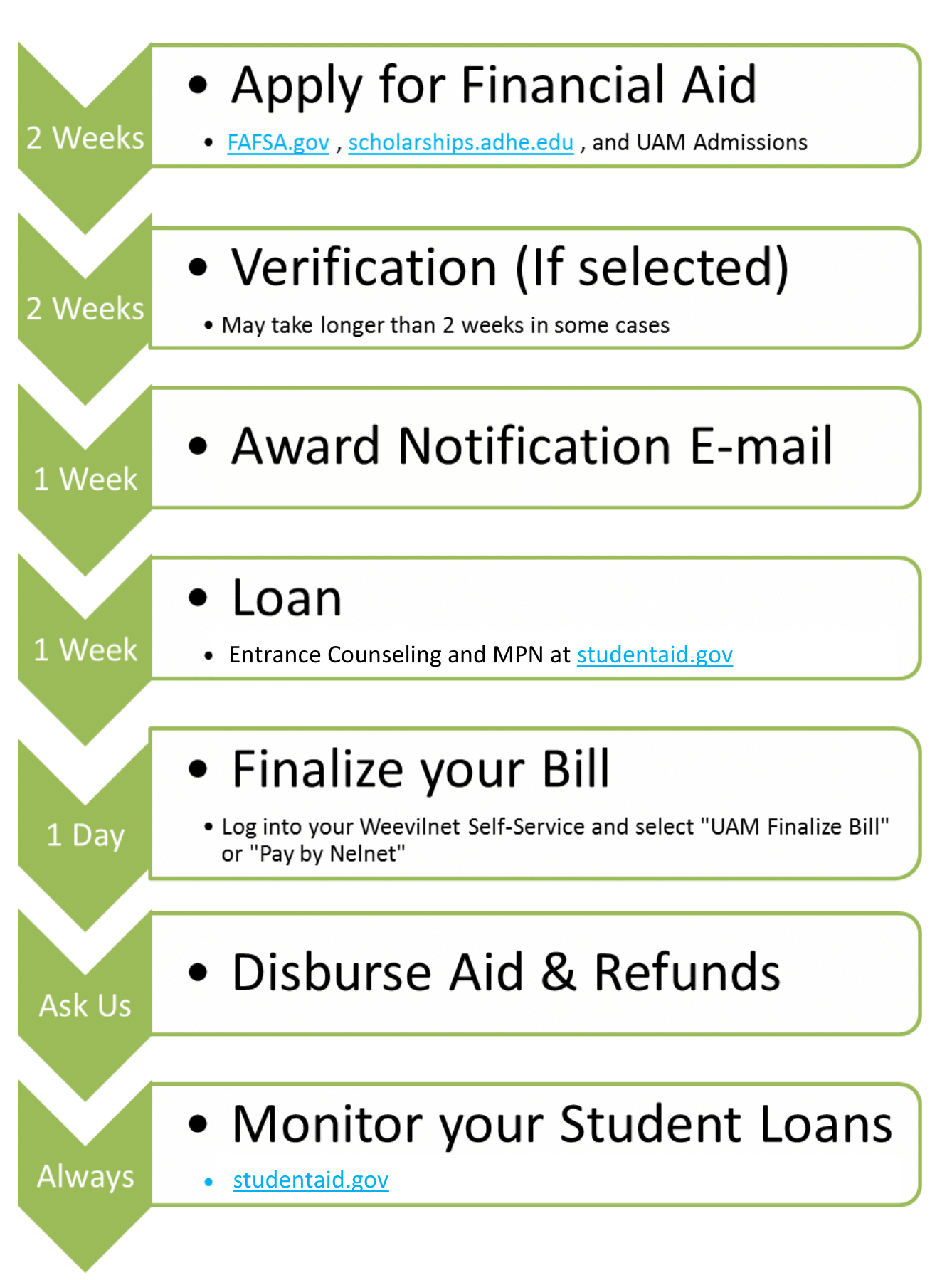 Please refer to our FAQ if you have any questions about the information in the timeline above, or contact our office.